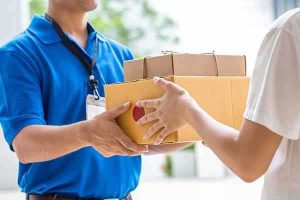 If you are setting up an ecommerce website there are a number of different options available to you in regards to delivery and it is important that you get it right as mistakes can be costly.
The most important thing is to decide how you are going to deliver your goods, are you delivering them yourself or will you be using a courier? You could also allow your customers to collect directly from your premises. For all of these options you should make sure you know how much each will cost you, so that you can decide how much you will charge your customers.
If you are using a courier they will be able to supply you with a price list. For example, if your goods are small in size you may choose to use Royal Mail, in which case they charge by size and weight, take a look at the Royal Mail online calculator for more information on their prices: https://www.royalmail.com/price-finder. If your products are sold by the pallet load you would need a haulier and these tend to charge by weight, size and distance/postcode.
Something else which is very important is deciding where you would like to deliver to, will it be UK mainland, all of the UK, Europe or international? It could be that you choose to ship abroad but only to specific countries. This is all possible but you will need to keep in mind that the more countries you opt to ship to the more complex the shipping can become.
Once you have decided whom you are going to use to ship your goods, and where you would like to ship them to, the next thing to decide is how you will pass the costs onto your customers.
Here is a breakdown of some of the shipping options available for you to implement on your ecommerce website:
Mimic the cost of your chosen courier, therefore the shipping cost will vary from one order to the next depending on the items purchased (for example their weight and size) and depending on your courier the location in which the items are being shipped to.
Offer a flat rate meaning one set price for all orders. This may mean that you take a hit on some orders but on the flip side gain on others. The advantage of this is that it keeps things simple from your customer's perspective. When opting for flat rate you need to decide whether you would like to charge per item or per order.
Set-up a series of flat rates for example £2.99 for small and light products, £6.99 for medium and £9.99 for larger/heavier items. Remember if you are also planning to ship outside of the UK you will need to consider if these charges will cover you for all scenarios or whether you will need different flat rates for different countries.
Some other questions worth considering:
Are you going to offer just standard delivery or do you want to offer next day too at a premium price?
Do you want to offer discounted or free delivery for orders over a certain amount?
Are you going to add VAT onto the shipping costs?
Are you going to add on a handling fee?
Have you covered all aspects of delivery in your terms and conditions?
Will you be able to ship orders 365 days a year or will there be limitations to this?